MBSR is a structured complementary medicine program that consists of 2h – 2h 30min sessions once per week for 8 weeks plus a half-day retreat during a weekend day.
This highly experiential, participatory and practical course involves:
– Guided instruction in mindfulness meditation practices
– Gentle stretching and mindful yoga
– Group dialogue and mindful communication exercises aimed at enhancing awareness in everyday life
– Daily home assignments (aprox. 45min daily)
– Handouts and audio guided meditations.
Watch a short video about MBSR: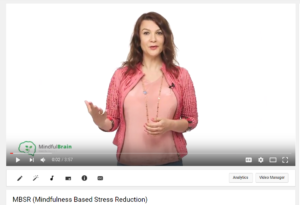 Dates: 17th of January – 14th of March 2018
Sessions: January: 17, 24, 31, February: 7, 14, 28, March 7, 14  (no session on 21st of February). Time: 7.30pm – 9.30/10.00pm
Retreat Day: 11th of March from 10.30 to 15.30
Cost: includes weekly handouts, audio guided meditations, 8 sessions of 2h30min, retreat day, support in case you miss a class.
Early-bird price (valid up to 2 weeks before the event): 820chf, including weekly handouts and audio guided meditations.
Regular price: 880chf.
The cost of the program is partially covered by some Swiss Health Insurances.
Read more about the program.
Email: ela.amarie@themindfulbrain.net