Are you fully present when spending time with your children?
Can you give them your full attention without being distracted by your mobile, TV or even by your own thoughts and preoccupations?
Unfortunately what we are witnessing is that in our increasingly hectic world, many parents feel too busy, stressed out, and simply too distracted to build a conscious relationship with their children! I am sure that this sounds familiar, because we have all been there at one or another point in our parenting experience.
The good news is that by implementing a few simple techniques, we can begin to build a conscious and deep relationship with our children. In order to truly connect with our children we need first to truly connect with ourselves and become conscious. As studies have shown, being mindful and implementing mindfulness in our everyday life, can indeed help us and our children live a healthier and more balanced life! By practicing mindfulness every day, we feel happier, healthier, calmer, less anxious, less stressed out, more focused, and overall better. All these has a positive effect not only on us, as parents and caregivers, but on everyone around us. Who wouldn't want that, right?
Mindful Parenting Course understands the reality and challenges of raising children in our fact-paced and often frenetic world, and provides solutions to help parents and children manage stress levels, create a peaceful environment at home for happier and healthier lives, and gives you a sense of clarity and purpose. This four week course, has been design specifically for a small group of parents and caregivers in order to achieve the most effective results.
Benefits of the Course:
a deeper awareness of your own emotions and reactions to stress
an increased ability to respond more skillfully to the unplanned and stressful moments with your child
an increased ability to deeply listen with kindness and attention to yourself and your child and to engage in open communication
the right mindset to problem-solve together with your child with patience and wisdom
the skills to increase your own and your child's emotional balance and well-being
the compassion to respond to your own needs and the needs of others when you are facing difficult situations
create healthier and more productive relationships between family members
What you get by attending the course:
4x 2 hour sessions once per week
handouts after each session
daily home assignment (10-15min) with given exercises that you can start practicing and implementing in your everyday life
audio mindfulness meditations and practices
group dialogue and sharing
Program Overview:
Week 1:
what is mindfulness
what is mindful parenting
benefits of mindfulness for parents, children and the family as a whole
Week 2:
how to overcome stress and build resilience
creating space – Mindful activities
finding your refuge: Importance of "ME time" as parents
Week 3:
managing difficult emotions
compassion – for yourself and for others
Week 4:
mindful communication
a mindful approach to technology
how to continue with the mindfulness practice in your daily life
Venue:
Bring in Om Yoga Studio Seefeld
Kreuzstrasse 41, 8008 Zürich
Date:
The course will take place Tuesdays morning from 9.30 – 11.30am in November
Tuesday, Nov 5
Tuesday, Nov 12
Tuesday, Nov 19
Tuesday, Nov 26
Cost:
early bird registrations until October 22nd   is: 360CHF
regular price after October 22nd  is: 390CHF
Registration:
Secure your spot by sending me an e-mail at ela.amarie@themindfulbrain.net
Teachers:
Ela Amarie
Ela is a Primary School Teacher, a Psychologist and a Certified Mindfulness Trainer and Coach.
She is an MBSR (Mindfulness-Based Stress Reduction) and MBCT (Mindfulness-Based Cognitive Therapy) trainer. Ela is also certified in Mindfulness in Education by the Mindfulness in School Project and a certified SYI (Search Inside Yourself) Trainer – the mindfulness and emotional intelligence leadership course developed at Google.
Since the creation of her company Mindful Brain in 2012 she is committed to promote and support mindfulness as a transformational process in the fields of health, business, education and community at large. She has a personal mindfulness practice since 15 years.
Anna Engelhardt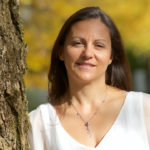 Anna is a mother of two young kids, certified nutritionist with extended background in marketing and founder of Slowolution. Although her background is in marketing, Anna's passion has always been healthy lifestyle – and this passion has only grown stronger since becoming a mom over seven years ago! After learning the hard way, Anna has made it her mission to inspire and help moms around the world to make their own health a priority…..because at the end of the day, we can't pour from an empty glass! Anna helps her clients to create the needed habits for sustainable healthy lifestyle where they feel energized, at peace, focused, fit and keep a positive mindset day in and day out!